Short film made during the SENSORAMA project with Open Arts.
You may also like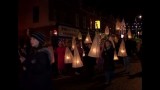 On 5th December 2003 the BEAT Initiative created the First East Belfast "Making Light" Lantern Parade. It was the result of months of various arts workshops carried out in various community centres and with differe...
Comments are closed.